Indulge, pamper and rejuvenate yourself by giving yourself the gift of a relaxing spa treatment in the Grand Hotel & Spa's full-service Aqua Day Spa. It is the perfect place to unwind after a busy day of meetings, shopping or touring around the city area. From massages, haircuts and manicures to bridal styles, scalp treatments, couples massages and signature facials, this spa has a treatment to make every guest shine.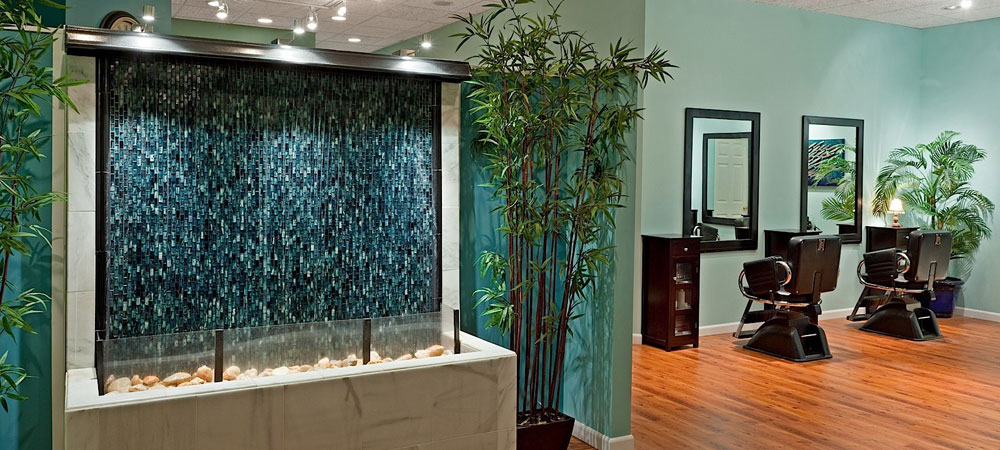 Spa Services
Massages
After a long day of meetings, touring the city or enjoying a tough workout in the fitness center, sooth your muscles with a relaxing massage. If you are traveling with your partner, don't miss out on an intimate couples massage!
1/2 hour session | $50/Individual, $100/Couple
1 hour session | $85/Individual, $170/Couple
1 1/2 hour session I $$120/Individual, $240/Couple
Hair Services
If you are attending a fancy gala, wedding or if you are hosting a business conference at the hotel, visit our spa and look your best with a new haircut, up-do, highlights or trim before the big event.
Women's Cut | $35 & up
Women's Shampoo, Cut & Style | $45 & up
Shampoo, Blow Dry & Curling Iron | $35 & up
Shampoo & Set I $30 & up
Up-Do's I $65 & up
Bridal Up-Do's I $80 & up
Child's Cut (12&under) I $20 & up
Men's Cut I $22 & up
Permanent Wave I $60 & up
Single Process Color I $50 & up
Foils I $90 & up
Cap Highlights I $70 & up
Hair and Scalp Treatments I $20 & up
Facials
A refreshing facial can make you feel like a million dollars! Before you go out on the town or after a long day of meetings or exploring, relax, sit back and allow the Aqua Day Spa staff to give you that facial glow you so desire.
Signature Facial I $75.00
Mineral Mask Facial I $90.00
Ultimate Spa Facial I $120.00
Lift me up eye treatment (add to any facial) I $20.00
Men's Club Facial I $70.00
Nails
Treat yourself and your nails to a healthy nail treatment at our on-site spa. Whether you are hosting a signature event or dining out in the city, look your best with a fresh pedicure and manicure. Your nails will never look better!
Manicure I $20.00
Pedicure I $45.00